This article is reprinted from ThePilot.com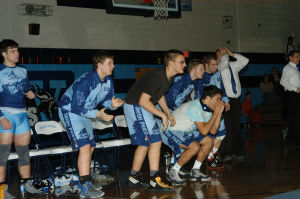 Wednesday marks the home opener for the Union Pines wrestling team as the Vikings host Terry Sanford at 6 p.m. on the mat at Bob Ward Gymnasium in Cameron.
Not only is it the first home event of the 2013-2014 season for Union Pines, the Cape Fear Valley 3-A Conference dual meet also marks the Vikes' second annual youth wrestling night.
The Sandcats are 4-A Pinecrest High School's feeder program, and the Copperheads are the Union Pines feeder program.
During halftime, wrestlers from both clubs, ranging in grade levels from kindergarten up through eighth grade, will take to the mat and entertain the assembled crowd for approximately 15 minutes, according to Vondruska.
"The wrestlers will be matched up according to weight," Vondruska said, "and will wrestle a few mini-matches. We will probably have about eight to 10 matches going on simultaneously, so it should be fun.
"This is an important event for Union Pines wrestling, as well as Moore County wrestling overall, because it gets these young guys experience wrestling.
"It shows that parents should get their kids involved at a young age because it is fun, and when they get to high school they will have a ton of confidence."
For Union Pines, which enters the league meet versus Terry Sanford at 2-0 overall this season in dual action and 1-0 in CFVC dual meet competition, there is a huge amount riding on the outcome of the early-season contest.
"It is a big dual for our conference," Vondruska said.
As the four-time reigning CFVC champions, Union Pines has won 25 consecutive CFVC regular-season dual meets.
"I am very excited to wrestle Terry Sanford because they are a well-coached team that has beaten us the last two years, and now that they are in our conference, it means so much more," said Vondruska. "Fans will see a great match and be in a loud environment with a lot of passionate wrestlers, parents and coaches. We will have some T-shirts thrown out to our fans for promotion as well as some glow sticks for all youth wrestlers."
While Union Pines has had a stranglehold at the top of the CFVC over the past four-plus seasons, the 2013-2017 North Carolina High School Athletic Association conference realignment saw Overhills and Western Harnett depart the league while Lee County and Terry Sanford — both moving down from 4-A classification — entered.
Union Pines opened this season by overwhelming the Westover Wolverines in Fayetteville by a tally of 68-9 on Nov. 20 in the league opener for each school.
Then the Vikes toppled 4-A Pinecrest 51-24 on the road in a cross-county nonconference dual Nov. 26 in Southern Pines.
Additionally, the Vikings have competed in one team tournament hosted by Southwestern Randolph High School in Asheboro.
"I am very impressed with our team as a whole as far as effort," Vondruska said. "Our team has a lot of dedicated guys and a lot of talent."
The Bulldogs enter the conference clash with a record of 2-0 in dual meet action this season.
Union Pines made it to the second round of the dual team state 3-A playoffs last season with a final dual record of 15-9 but placed fifth as a team at the state 3-A individual wrestling championships.
Returning from that team are three state placers in junior Samuel Bartram, senior Paul Ambrose and sophomore Dylan Barber.
Vondruska said the other returning Viking starters are Mike Fedowitz, Darrell Utt, Grant Jefferson, Garrett Jefferson, Justin Hall and Caleb Edwards. However, senior Ethan Coker, who recently earned a place in the Vike lineup at the 152-pound spot, has arguably had the best start so far this season for Union Pines.
In the early going Coker has racked up an undefeated record of 7-0 and was recently named the Vikings' wrestler of the week.
"Ethan has no bad habits," said Vondruska. "He is all-in this year and is forming into a real positive leader for our team. He honestly just loves what he is doing, even training.
"Ethan just can't get enough of it — and because he loves training so much he competes like an animal."
Contact F.W. Manning II at frankwm2@gmail.com.